Joining Steve's World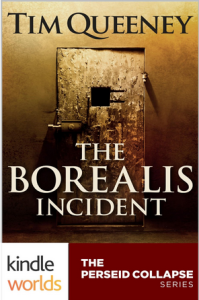 I'm happy to report that my novella, The Borealis Incident has joined Steve Konkoly's The Perseid Collapse Kindle World today as Steve's Kindle World (KW) launched on Amazon. Check out all the titles here.
How did this master inveigle me into his world?
The recruitment began innocuously enough. We were outside a parking garage in Portland, Maine. A mild December night, clear sky, quarter moon. My pal Steve and I had just met with some writing friends and were headed for our respective cars when he let slip that he was about to launch a KW for his Perseid Collapse series. I had read his Perseid Collapse books and I knew about Kindle Worlds. Steve had offhandedly dropped a few morsels of intel about his experience writing two contributions to Blake Crouch's Wayward Pines KW.
I pressed him for details. He stepped deeper into the shadows, dropping his voice to nearly a whisper. Step right in or I would miss it. That's how I knew I was probably already in his grip.
And so we stood in the shadows of the garage entrance. Two figures partially shrouded, in conspiratorial tones. A passing police car slowly patrolled. A woman approaching the concrete slabs of the garage favored the far side of the entrance, staying clear of us. Some probably avoided the garage entirely at the sight of a skulking pair.
"I have an idea that fits your Perseid Collapse scenario," I said.
"Oh, really?" Steve said, his voice flat. "Can you write it in a 20,000- to 25,000-word story?"
With the outline of The Borealis Incident sparking and zapping in my head, I said "Yeah. I think I can."
The Holidays intervened. I wondered if the conversation had ever really taken place.
Then Steve got back to me in a terse email (so telegraphic I almost suspected it was a code). "I've given your name to Sean, the acquisitions guy at Kindle Worlds. Expect contact."
An email arrived from the Amazon mothership on the west coast (there was no one-time pad or numbers station, in fact, the email was in plain text — curious). When would be good to talk? Sean and I worked out the three-hour difference and spoke on the phone (no voice scrambling, no frequency hopping — what was their game?).  The date was Jan. 5.
"Steve said you were ready to start, that's good," Sean said with no preamble. "Your novella needs to be 25,000 words and we need it by Jan. 30."
Static crackled across the continental phone line. I considered my next move.
"Steve said it could be 20,000 words," I said, testing him.
"Nope. 25,000 minimum."
Everyone has a number. They may deny it, but deep down, they know. This was Sean's. I sensed he wouldn't budge.
"Okay. You'll get your words," I said.
The line went dead. I was committed.
What if I didn't deliver on time? Or didn't meet Sean's number? An image hit me of a flash mob — Amazon drones, cocky half-smiles, descending on my house like a radio-controlled 82nd Airborne.
So I set to work.
Then I realized: It's Steve's world, I just write in it.
---
Order The Borealis Incident at Amazon.
Here's Steve's blog post highlighting The Borealis Incident.
And like The Perseid Collapse Facebook page for more info and for comments from other readers.