Ceres Plague first draft and Provideniya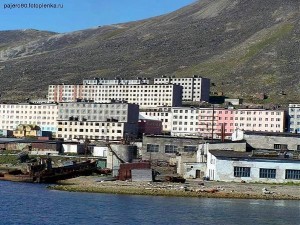 The final scenes of the next Perry Helion thriller, The Ceres Plague, take place in the struggling Russian Bering Sea settlement, Provideniya. Like some other cities in Russia — and America — Provideniya has seen better days. The end of the Cold War resulted in Provideniya losing a sizeable chunk of its population. Vistas of Providenyia are dominated by the herd of outsized apartment buildings that graze across the city's hillside. Many of the drab apartment blocks, built during the Soviet era, stand empty and crumbling, giving the town an air of dissolution and fall. Sad for the people who still live there and have to suffer through the brutal winters, but a great locale for the final action sequence of The Ceres Plague.
By the way, the first draft of Ceres is now complete. A few weeks of re-writing, beta reading and editing and The Ceres Plague will be winging its way to readers.
I wonder if any of The Ceres Plague's future readers will live in Provideniya?