"Frostbitten to the bone"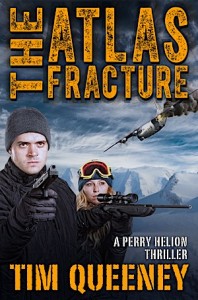 Great review of The Atlas Fracture by Joseph Souza, author of the zombie thrillers, The Rewakening and Darpocalypse.
"The Atlas Fracture, a technological thriller by Tim Queeney, takes the reader to a faraway place most people have little knowledge of: the Antarctic. Our hero, Perry, is somewhat of a misfortunate chap with a troubled personal history and frigid upbringing. Lonely and alone, due to the requirements of his covert assignments, Perry seeks above all to reconnect with his estranged son now living in L.A. He misses Lucas so much that he'll do just about anything to be with the boy, a son he finds difficult to connect with on account of his own shortcomings. But as always he'll meet up with him just after the next assignment is completed.
"So what better place to reconnect with humanity than the Antarctic, where a secretive conglomerate of scientists, Muslims and thugs gather in disharmony to achieve a singular goal? Although each team's ultimate goal is a shared endeavor, their motives are as disparate as their ideologies.
"The Atlas Fracture is a clever plot device, and throwing poor Perry into this glaciated oasis obviously requires that he snuggle up with a body, and the warmer and softer the body the better. And that he does by the mysterious pull of romantic chemistry. Or maybe it's just the bitter cold that brings them together. But not before mayhem, intrigue and duplicity divides the various members of the team into their ideological cliques. What turns out to be an expedition in search of sub-glacial, deadly organisms soon becomes a red herring for a more malevolent plan of action.
"Queeney is a competent and confident writer. His ability to describe this frozen tundra in meticulous detail impressed this reader. Equally impressive was his description of the technological processes involved in drilling through ancient ice, not to mention glacier history and shift patterns. I didn't expect to learn much, but I found the information on oceanic currents, Soviets artillery shells, and sub-glacial lakes to also be rather interesting topics, topics that I rarely if ever come across. Queeney has done his research so strap on your seatbelt and jump aboard this novel at your own risk.
"The Atlas Fracture is a compelling thriller that hums right along and skillfully integrates science, intrigue and ideological extremes. My only quibble was that the book was a bit too compact and could have used more fleshing. Perry Helion is an intriguing character with enough heft to carry the day, and I wanted more of him. A more expansive approach to the novel would have enriched and better informed the reader. But let there be no doubt, The Atlas Fracture possesses enough velocity and mass to heat up the room. Snuggle up with an electric blanket and put the thermostat on high while reading this book because you won't put it down until your hands are frostbitten to the bone.