Polar bear protection: shotgun or rifle?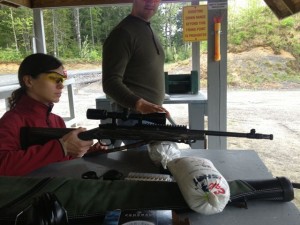 In addition to my role as reputed kingpin of the Perry Helion thriller series (the next book of which, The Ceres Plague, will be out in September), I am also the editor of Ocean Navigator magazine. Ocean Navigator is for folks who like to go on voyages, either along a coast or across an ocean. As ON editor, I get some interesting requests — like a recent appeal for help in choosing a weapon for protection against polar bears.
One of ON's regular writers is Ellen Massey Leonard, who, with her husband Seth, has sailed around the world in a wooden sailboat. The Leonard's next adventure is a sail through the Northwest Passage aboard their newest boat, Celeste, a 40-foot cold-molded cutter built in British Columbia in 1986.
Turns out the Canadian government — and common sense — requires that voyagers making the Northwest Passage through Arctic Canada carry some sort of firearm for protection against polar bear attack. Should that firearm be a shotgun or a rifle? In Ellen and Seth's case, the issue was further complicated by the fact that neither of them had ever touched a gun before.
Since Ellen had read my Perry Helion thriller The Atlas Fracture, she asked me if I could help by providing them with some gun training. This seemed like an intriguing task, so I said yes and then brought in my friend Steve Konkoly, a former naval officer and a fellow thriller novelist. With more formal training in firearms, Steve was a natural lead instructor (my role was to assist Steve and toss in an occasional brilliant observation about ballistics or bullet grain or announcing lunch time). We set up a session at the Scarborough Fish and Game Association's firing range in Scarborough, Maine.
Unfortunately, Seth was not able to attend, so the training and decision process was on Ellen alone. Steve showed her the basic operation of a pump action 12 gauge shotgun and a bolt action, .308 caliber rifle. Then it was time to shoot. Steve fired a few shotgun blasts into the firing range's sand berm. Following that, Ellen stepped up to take a turn at the trigger. Her first attempt at a shooting stance involved feet close together and her body leaning away from the gun (!). We got this corrected and Ellen was soon blasting sand grains with the best of them.
Next up was the Ruger Scout .308 rifle. Ellen dutifully listened to loading procedure for the three-round magazine, how to work the bolt and line up the target with the 'scope. Then it was back to Steve to take the first few shots. The explosive report of a .308 is damn impressive.
Ellen was impressed. She only needed to experience the fury of one shot sent down range before she announced, "I've made my decision." It would be a shotgun for her and Seth on their journey. Let's just hope they never have to use it.
Of course, after lead instructor Steve, I took full advantage of the opportunity and blasted off a few rounds with both the shotgun and the rifle. I managed to pound some sand with the shotgun and put three rounds on target at 100 yards with the rifle.
Perry would be pleased.