Resourceful Women in the Perseid Collapse series
Steve Konkoly's The Perseid Collapse Kindle World launched in February 2015 with nine novellas. Two of those original Perseid Collapse novellas had female lead characters: The Borealis Incident by Tim Queeney and Deception on Durham Road by A.R. Shaw. In this joint blog post, A.R. Shaw and I talk about those female characters and how they fit in The Perseid Collapse world and the even right here in the real world.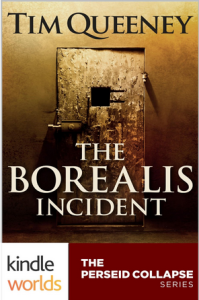 Tim Queeney: Going back even just a few decades, it's hard to imagine a female deputy commander of a U. S. Air Force Base. Yet today, writing a woman lead character like Lt. Colonel Dana Wright in my Perseid Collapse novella, The Borealis Incident, is not something that requires a great leap of faith from readers. Woman have made huge strides in the military, with female pilots and ship drivers not an unusual occurrence. The biggest issue Dana has to face in Borealis is that the base security officer doesn't want her driving alone to the missile warning radar site 13 miles across the Greenland tundra from the base itself. Perhaps he's concerned because Dana is a woman, but maybe he'd be just as uneasy with the practice if the deputy commander was a man.
A.R. Shaw's Deception on Durham Road also has a female lead, Jamie Michaud. But instead of a military officer, Jaime is a mom working to protect her two daughters. Jamie represents a modern example of a classic American archetype: the pioneer woman and mother. The woman who headed west in the early Nineteenth Century were not reclining on plush seats in the back of their Conestoga wagons, they were busy from sunup to sundown with a wearying variety of domestic duties, plus the need at times to help defend the wagon train. The pioneer woman were smart and tough and Jamie displays plenty of those qualities, too.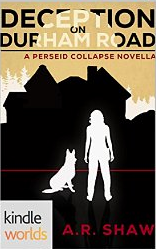 A.R. Shaw: I agree with Author, Tim Queeney, twenty five years ago, when I served in the Air Force Reserves, it wasn't unusual to have women performing important jobs in the military, but as a base commander? No question that's one position only few have recently obtained. The question now may be, are women capable of such lead roles in society and in fiction?
Of course, I'm biased. I am a woman. I served in the military. I run a household. I'm a mother and a wife. And, I'm my own boss. Those are all acceptable roles in reality but in fiction only recently has it become 'plausible' for a woman to command a military base. To be the CEO of large corporations or to become president of the United States. (Actually, that hasn't happened yet. I'm sure we're waiting for the right candidate.)
I know some of us are capable of leading the way. Not every man has what it takes and the same goes for woman. In Tim Queeney's Borealis Incident, the lead role is held by Dana Wright. She's earned her right to be at the top through hard work and determination. You accept this role as a reader now because it's happened in reality, it's plausible.
In my novella, Deception on Durham Road, Jamie is a French teacher by trade and a mother of two teen girls. Nothing unusual there. She's made mistakes in life by trying to replace the deceased father by an unworthy fellow. What makes her exceptional is her acceptance to overcome abuse and her fight to make it on her own, not only for herself but for her daughters too. She's not running off for help from a FEMA camp. She's not begging for food from strangers. She's taking charge of her life and her responsibilities. This too happens in reality. Her courage is plausible and we see it from time to time, it's impressive but it's not the norm. The norm is applying for state aid or to depend on others to help you.
In both of these novellas, you see an inner strength, a will to fight and a steadfast resolve for a lead female character.