Review of Steve Konkoly's Black Flagged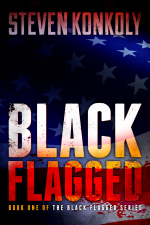 Black Flagged is the first book in Steve Konkoly's Black Flagged series (the sequels being Black Flagged Redux and Black Flagged Apex). In this first book Konkoly introduces us to a complex, high-energy world of special ops and intelligence personnel engaged in a chess game that often plays out in bloody mayhem. Two things immediately stand out about Black Flagged.
The first is that Konkoly doesn't make this an easy, bad guys versus good guys morality play. There are plenty of questionable motives and devious maneuvering to go around and, initially at least, we have to pay close attention to discern who the real heavies are in the book. This approach by Konkoly not only cleverly underlines the dangers of this special ops world but also treats the reader as a partner in the process of unwrapping the story. Nothing is simple black and white here.
The second intriguing element of Black Flagged is Konkoly's main character Daniel Petrovich. The larger sense of moral quicksand is crystallized in Petrovich. He is a man with a heavy history who is reluctantly drawn back into his former murderous profession — a profession he excels at — by larger forces. But once Petrovich is back in, he is in with a furious vengeance. As a writer, Konkoly has the confidence to give us a guy who we respect, but who clearly is a resident of the black ops swamp. Konkoly doesn't try too hard to make the reader like Petrovich. He has faith that once we get to know Petrovich better, we'll understand his demons and his motivations. And we do. By the end of Black Flagged I had a deep appreciation for Petrovich as a maestro of special ops violence but also saw the wounded human side of the character under the tactical vest.
And for lovers of "thriller procedurals" Black Flagged doesn't disappoint. Konkoly, a former U.S. Navy officer, knows his weapons and his tradecraft inside and out. The details are plentiful and fascinating. From edged weapons to submachine guns to grenade "specials", there is plenty of gear and great action to keep the hardcore thriller fan turning pages.
My only quibble with the book is the flip side of the complex world Konkoly presents: there are enough characters that I was challenged a few times to keep track of who was who (Konkoly does provide a helpful cast of characters list). Overall, however, this is a rousing tale with great action and a well woven plot that will keep you on the hook to the end. I look forward to the next books in the Black Flagged series.
Black Flagged is available on Amazon.com